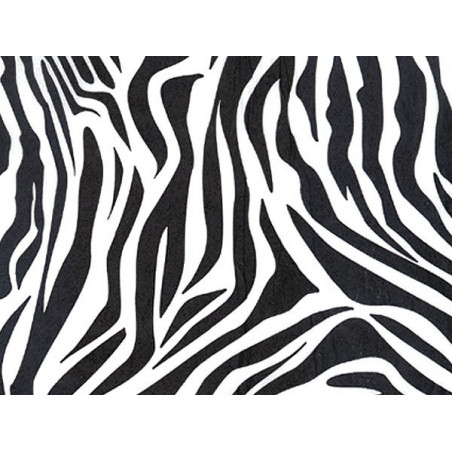  
Zebra tissue paper
Zebra Tissue Paper. This Zebra design paper features striking 100% printed, detailed and quality zebra pattern - Not just basic stripes! On 17gsm recycled paper. 51cm x 76cm (20" x 30"). Available as pack of 5 or 24 sheets.
This pack of 5 sheets of Zebra tissue paper is the perfect way to dress up your present. These large size sheets offer a very attractive and economical gift wrapping option. When comparing tissue paper be careful to check the size and weight of the sheet.
The paper is 100% recycled and biodegradeable for eco-friendly gift packaging.
Acid-free tissue for wrapping and packing items.

17gsm paper and 100% printed with a trendy and colourful design.

51cm x 76cm (20" x 30")

Commonly used to wrap gift items and in jewellery and clothing stores.

Please note the print is colourfast and is designed for jewellery, delicate clothing and other items.

Size 50cm x 76cm

Our Premium Grade Tissue Paper is an acid-free machine finished tissue paper that is of the highest quality. It is acid-free and colourfast, so you can be sure that it won't run on the items that you pack in it or tarnish any delicate items that you wrap with it.
The tissue paper is made from 100% recycled paper and 100% degradable. It degrades in compost over 2 years.
Customers who bought this product also bought: