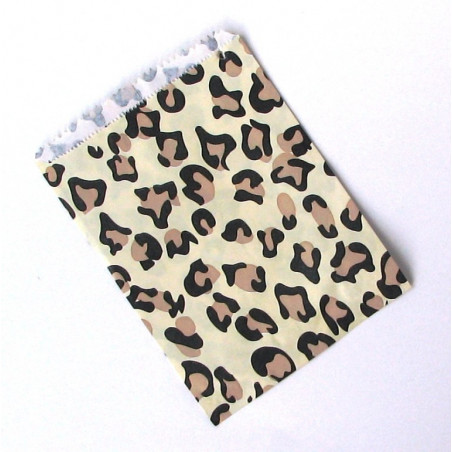  
Large leopard bag
When bigger bags are needed why not try our large leopard print paper bags.  Made in the U.K. from strong 38gsm white craft paper these bags are perfect for a whole range of uses. (Pack of 8).
Fill with a favourite treat and tie with one of our range of curling ribbons.
Don't use those costly and environmentally unfriendly children's party bags – use a completely biodegradable paper bag instead and add a touch of class to the party!
Be lazy when wrapping pass the parcel or small gifts – use a bag instead!
Instead of napkins, wrap cake and edible treats in these bags.
For children's crafts, and for funky "envelopes" for home made cards cut a bag to size and use our adhesive seals for that finishing touch.
These bags compliment our gift bag and gift wrap range and measure 25 x 36 cm (10" x 14")
Customers who bought this product also bought: