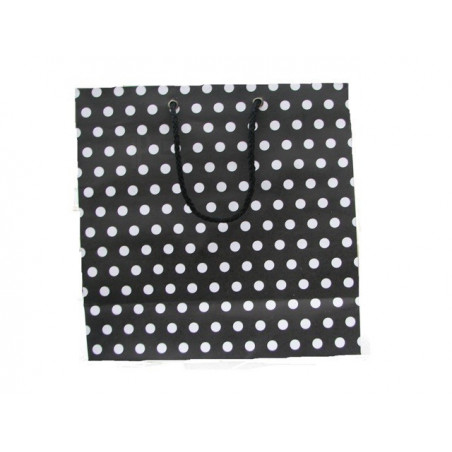  
Gift bag
Black gift bag, Hot pink gift bag or Polka dot gift bag. They are fitted with Threaded twisted rope Handles. Made in the UK. Simple, classic and stylish! 67% Recycled, Recyclable and Bio-Degradable, an ideal alternative to plastic!  Available in packs of 10. Please note these bags are slight seconds.
Made from a strong kraft paper with twisted paper handles threaded and then tied to the inside of the bags.

Flat block bottom suited for boxes and other containers, the bags are suitable to hold up to 2 kilos in weight.

Available in a range of colours offering an opportunity to combine with our cards, tissue paper and ribbon.

These bags are commonly used in gift stores, boutiques, clothing outlets and other retail stores for small items.

Height: 22cm, Width: 22cm, Depth: 9cm

Printed and constructed in the UK with 67% recycled canadian pulp.

Bulk savings available buy in packs of 10.
Customers who bought this product also bought: